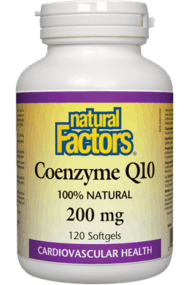 Coenzyme Q10 200 mg 120 softgels
Natural Factors
SKU: 1942
Natural Factors keeps pace with the latest research by introducing a high potency CoQ10.
High potency and superior absorption for energy, heart and immune support
For anyone using statin drugs
Supports heart health and maintains normal heart function
Potent antioxidant
Free radical scavenger
Promotes healthy gums
Restores energy and vitality
Lack of CoQ10 may not be the reason you age, but it can be a factor in how FAST aging occurs. CoQ10 triggers the body's energy production at a cellular level. Heart health concerns? Low energy? Compromised immune function? Ensure you have the CoQ10 you need. The use of statin drugs also depletes the body's levels of CoQ10. Supplementation is recommended.
---
We Also Recommend
---